The battle for the ODM presidential ticket in the 2022 election is taking shape with Party Leader Raila Odinga set to face off with his deputy, Mombasa Governor Ali Hassan Joho.
On Thursday, February 12, the two attended the National Executive Committee (NEC) which agreed on the rules for picking its top contender and resolved to boost political activities in line with Kenya's constitution and in readiness for 2022 General Elections.
For aspirants to get an ODM ticket, they will have to meet new qualifications including a membership of at least two years.
"The party adopts the recommendations of the standing committee of legal affairs to align its constitution, elections and nominations statutes rules with the constitution of Kenya and national statutes," a statement issued nominated senator Agnes Zani read in part.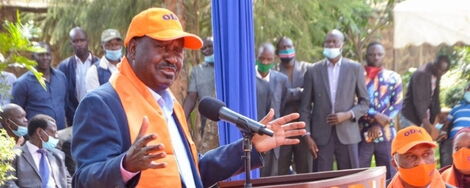 ODM leader Raila Odinga addresses the media at a past event TWITTER
An insider pointed our that the party's move is to bar persons who join the party in order to obtain a nomination certificate, after which they show no commitment to ODM. The aspirants will have to have been members of ODM for at least two years before the elections.
This means that those who are not members of ODM as at now risk not being able to use the party's ticket in the forthcoming elections.
John Mbadi, the ODM chairman mentioned that the laws governing the party had not been changed. He said that they had just aligned the laws to the country's constitution.
"We have just basically aligned our nomination rules to the constitution. Nothing much has changed," said Mbadi.
NEC also made it known that the nomination results will only be declared in specific places.
Raila, during the meeting told the ODM leaders to mobilize people on the Building Bridges Initiative (BBI). He laid emphasis on the leaders explaining to the citizens the importance of having 35 percent increase in county revenue allocation.
Zani also pointed out that ODM is still working in collaboration with Jubilee Party to ensure that BBI passes since its main aim is to unite Kenyans.
"To achieve this, we have resolved to work with the ruling Jubilee party and other like-minded political parties to walk this journey together to the end," said Zani.
This comes at a time when presidential politics are heating up in the country. On February 12, Deputy President William Ruto responded to critics that he has been taking the Jubilee government for a ride.
He pointed out that he made Uhuru become president and reportedly does not require his endorsement to make president in 2022.
"Those people are saying that they know Uhuru better yet I helped him become President. I also assisted Raila (ODM leader Raila Odinga) to be Prime Minister. We can now see them ridding on 2022 endorsements, where were they when Uhuru and I started our journey. Let me see by a show of hands who you think is able to take over the government. Is it hustler (Ruto) or mzee wa vitendawili (Raila)? I can see that all of you believe it is the hustler," Ruto said.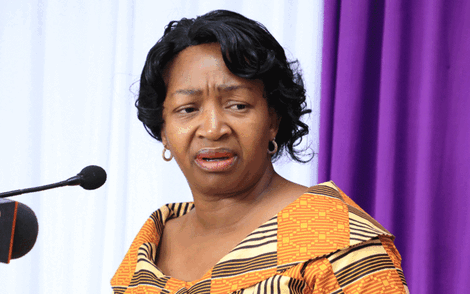 Nominated Senator Agnes ZaniK24 DIGITAL